RRB NTPC Online Quiz Test 2020-21: Practicing Online Mock Test can help the candidates in scoring high marks in RRB NTPC 2020 Exam. In this article, we have provided the Online Mock Test for General Awareness & Current Affairs section of RRB NTPC CBT-1 exam. So, start practicing the mock tests for RRB NTPC 2020 CBT-1 Exam.
RRB NTPC Online Quiz 2020-21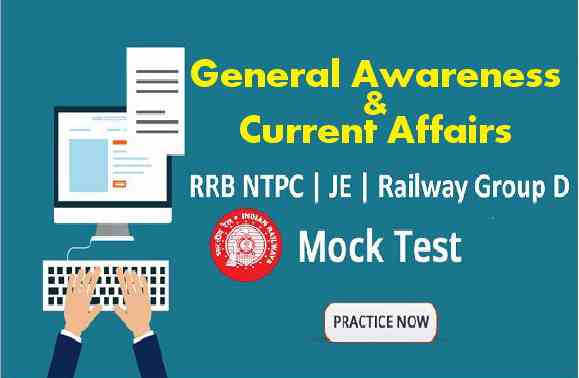 RRB NTPC Online Mock Test based on the latest exam pattern of the RRB NTPC 2020 Exam
जो छात्र नीचे दिये गयी परीक्षाओं जैसे-
SSC Graduate Level Exams & Intermediate(10+2) Level Exams – Data Entry Operator & LDC,Stenographer Grade 'C' & 'D'
Civil Services Examination & State Level – MPPCS ,BPSC
उत्तर प्रदेश लोक सेवा आयोग UPPCS Exams Like –Lower Subordinate Exam,Staff Nurse,LT Grade Teacher,RO/ARO Exams etc.
CPO Sub-Inspector, Section Officer(Audit), Tax Assiatant (Income Tax & Central Excise), Section,Officer (Commercial Audit)
उत्तर प्रदेश अधिनस्थ सेवा चयन बोर्ड के द्वारा आयोजित परीक्षाए जैसे – Junior Assistant,Lekhpal,ग्राम विकास अधिकारी etc.
CISF,Air Force (X & Y Group Exam)
की तैयारी कर रहे है उनके लिए भी यह काफी महत्वपूर्ण है
RRB NTPC 2020-21: General Awareness & Current Affairs Mock Test with Answers
RRB NTPC General Awareness Online Quiz provided by Sarkari Notes Help covers all the relevant topics coming in General Awareness Section of RRB NTPC Exam. This is a must take quiz for any candidate trying to update his/ her General awareness and evaluating the preparation level for the RRB NTPC Exam.
Questions will be asked in RRB NTPC General Awareness section – Number of Questions in Stage I – 40 Questions and Number of Questions in Stage II – 50 Questions.
We will update latest Questions with answer…….